Post by mayday91283 on Jan 31, 2020 23:04:56 GMT -5
The registration window for this contest is now closed. The publish window for the CC Design Contest is now closed.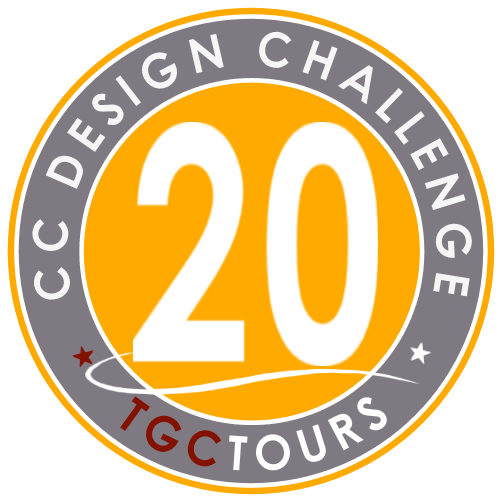 Calling ALL designers. Do you feel trapped by the tight window of a design contest? Do you not even bother knowing your invite's not in the mail and that you can't stay up to snatch one of the few open spots in a contest? Listen up! There's a design contest the breaks the norms -- The TGC Tours 2020 Challenge Circuit Design Challenge.
A few of the contest stipulations still apply. You may not begin construction on your course until AFTER you have officially registered (no pre-exisiting WIPs or betas, and no LiDAR) and we're not allowing betas or outside help, but otherwise pretty much all bets are off.
You have questions, I have answers.
Q: I see the contest "opens" Feb. 1, the same day of the Major Contest, is that accurate?

A: Yes, yes it is.
Q: Does that mean I get 5 MONTHS to work on my course?

A: Yes, yes it does.
Q: So how many people are you going to have competing in this hootenanny?

A: Don't know. It could be one, could be 100. There is NO LIMIT ON THE NUMBER OF PEOPLE WHO CAN ENTER!
Q: Say what?!?!

A: That's right, all you have to do is declare you desire to participate any time between now and May 31 and you're in. You have from the time you register until 11:59 p.m. (CT) Tuesday, June 30 to build your course and publish it.
Q: How are you guys going to judge all those courses?

A: Long hours and scotch. Definitely lots of scotch! Our judging panel will play through all the entries and, using the Official TGCT Design Contest Rubric ** DRINK! ** will pare the list down to the top 10, which we will give further evaluation based on the rubric ** DRINK! ** to determine our champion. (I told you there'd be lots of scotch!)
Q: When are you going to declare a winner?

A: On or about Aug. 1, though the exact details are still TBD.
Q: What do I win?

A: You? Likely a participation trophy, a juice box and some orange slices. But the winner of this contest will get a cool profile badge (like the ones in my sig). The winner will also likely get special exemptions into future TGCT official design competitions and have his or her course host a prominent event on the CC Tour.
Q: Are there any required elements, special considerations or any of that jazz?

A: Not really, but bare in mind this contest is the "Challenge Circuit" Design Challenge, and many of the contest courses will likely end up on the CC Tours at some point. So you probably don't want to design the second coming of Susquehannock (Major), but you probably don't want to go the Little Brook Manor route, either. Just build us something that's fun and enjoyable to play for a wide variety of skill/club sets.
Q: What if I'm signed up for the Major contest? Can I do both?

A: How crazy are you? If you feel like you can juggle two contest courses at the same time (I'm looking at you,
mattf27
!), knock yourself out. If not, that's OK too. Since the registration window runs through May 31, if you decide after you've put out your major beauty, "Hey, I want in this CC thingy, too!" Sign up and have at it -- Remember though, you can't start your course until AFTER you sign up, so don't go giving me that major contest course idea you started and scrapped!
Q: What if I can't finish by deadline?

Dude, I gave you 5 FREAKING MONTHS! Andre would have started and deleted at least 27 courses in that amount of time and still published three. Seriously though, if you don't finish, it's just one less course we have to judge. You're not taking a spot away from anyone (because the field is unlimited), so if you don't finish by deadline, obviously you're disqualified from this contest, but there will be no sanctions that carry over into future contests (though I may mock you in future streams, or subject you to being tarred and feathered, haven't decided yet

).
Q: Can I stream this mess?

A: Sure, just make sure you're the one steering the ship, not the peanut gallery -- there's a reason they're called "nuts" after all!
Q: I can have my course done by next Thursday. Can I publish then?

A: The publish window for this contest has closed.
Q: I can churn out 5 courses in 5 months, can I enter all of them?

A: Nope. To paraphrase Sean Connery, "one chorshe only, pleashe!"
Q: Will there be playthroughs?

A: Well considering that about 2,346 guys have been streaming World Cup playthroughs, I would say that, yes, there is a good likelihood that your course will get plenty of screen time. As for an "official" playthrough via the contest, we're still working out the details but will likely do some sort of playthrough as the courses are published.
Q: OK, I'm sold. How do I sign up?

A: Well, that's the easy part. Just reply to this thread. Include your TGC Tours name and the platform you are designing on. (Example: Jeremy Mayo, PC).
Q: Wait! Did you just sign up for your own contest?
No! Who do you think I am,
reebdoog
?