Post by sandsaver01 on Jul 2, 2020 12:12:57 GMT -5
I am well into the process of realizing for TGC2019 a course I had as my "Home course" for more than 15 years. I played more than 500 rounds there over that time, and would still be playing it if I still lived in Central Indiana. The Lidar data available was not shown as Q2 or high quality but I made a course file out of it to see if it was usable. After as many rounds as I have played there I knew every slope and mound, and the course file seemed pretty darned close to me.
The Trophy Club
was created in around 1997-98 by Tim Liddy on a plot of land probably a little too rolling to make good farmland for Corn and Soybeans, which are grown on most of the acreage surrounding the course. Liddy was part of Pete and Alice Dye's organization before striking out on his own, and I think that the Trophy Club was his first solo commission. He has also designed other well regarded Indiana courses such as Rock Hollow in Peru, IN and Hickory Stick just South of Indianapolis.
Rated in the top 10 "Courses you can Play" in Indiana by
Golf Advisor
and also by many other golf rating websites the course is located in Lebanon, IN about 30 miles NW of Indianapolis just off I-65. That proximity has led many people going to or coming from Chicago to Indy to stop and play the course so it is well known outside the state also.
If you look at photos of the course you can see that it has generous landing areas off most of the tees with fairways narrowing down toward the greens. It is long enough at 7200+ yards for TGC2019, but is likely to be pretty low-scoring for most pixel golfers. For golf IRL however the course has three challenges:
1 - The tall Fescue that is everywhere outside the mown areas of the course. This grass is so dense it is usually not worth looking for your ball unless you see exactly where it went in. Due to plant-meter limitations I am unable to make the grass that thick but I did my best.
2. - The wind. The course has very few trees in play (great in the fall, no leaf problems lol) so nothing blocks the wind. In the Spring and Fall we used to call 10-15 mph a "Gentle Trophy Club Breeze", and many days the wind blew hard enough to rattle the flag-sticks out of the cups. This amount of wind brings the tall Fescue into play more.
3. - The greens. Not too big or too small, there are essentially no flat greens on the course, although they are not Augusta either. For a lot of them the Superintendent is unable to have them cut shorter than about a 10 on the Stimp-meter or they will not have enough locations for reasonable pins.
There is also water on a number of holes with three ponds and Prairie Creek coming into play, but they are not too frightening except when it is windy (in other words most of the time).
I show three pictures I took from the highest point on the course just for a little taste. I just finished planting hole #12 so things are moving along pretty well.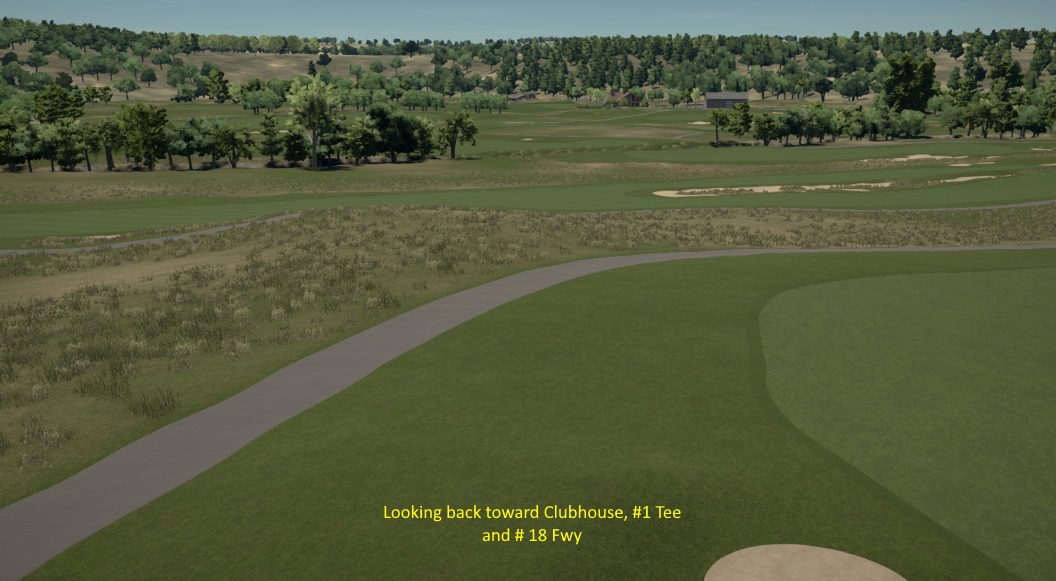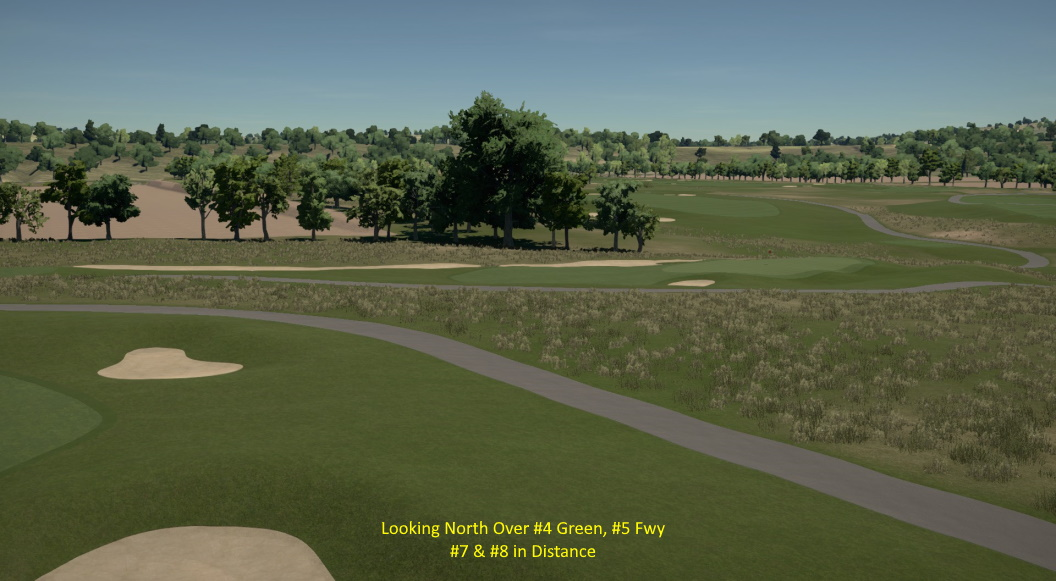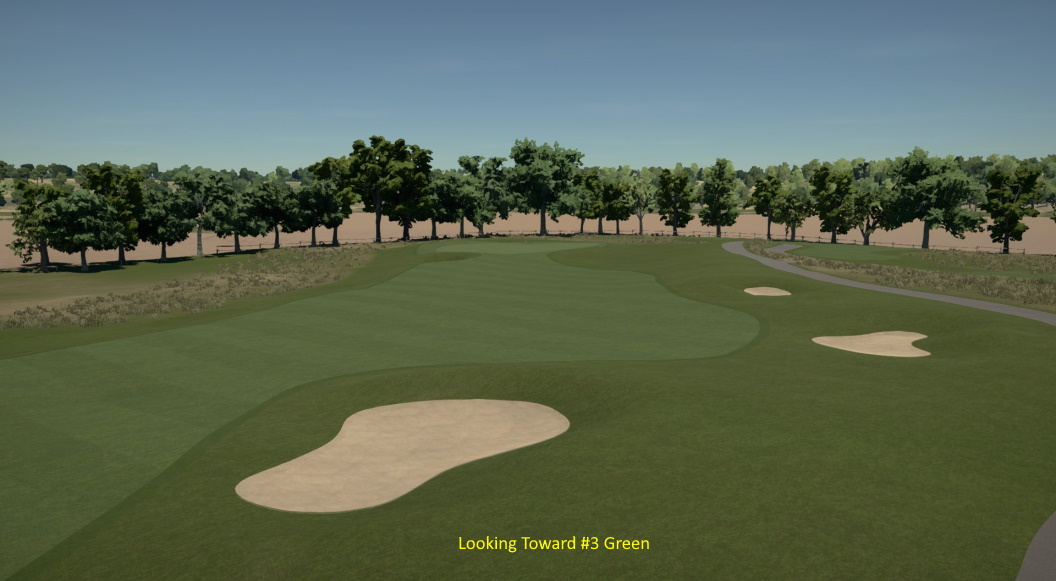 It should not be too long before I release a beta version so I can get some feedback.