Post by ezzinomilonga on May 29, 2019 14:41:48 GMT -5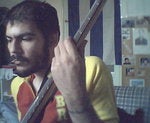 👀
Sh!t, this was really awful.
I have to find something to do.
Absolutely.
Sorry.
I'll allow it.
So, umm, how about those round 2 conditions?  Vicious.
A bit seriously,to answer to you, this is my fifth week playing tgct,i play in cc-c and with pro clubs, cause i realized that i'm still just too weak to be consistently competitive with master clubs (but i'll learn. Question of time and willing. And i will.), so i decided to just skip those us open qualifying and to concentrate myself on improve my game.
I tried to play the first, just for fun,but reality is that with those kind of setting artificiously thought, i can't find just any fun. I will do it when i will have to do,if i will ever good enough to deserve to play a major. And just cause this is how major needs to be played here. But i already know that if will ever happeb,it will be with no joy while i play, cause i stay on my idea that to calm down the scores there are more clever and funny ways that force players to play sometime in the storm, or to hit tiny fairways with no clue or, (as always,in fact) to reach pin positions on some green with absolutely ridicolous slopes just everywhere..and so go on. Especially when it happens on greens that,anyway,are already projected and designed in a way that makes it pretty well guarded even with no need of those little cheap tricks.
What i mean is that the main idea that for a major is needed a course that has to sound in the end as some kind of "oakmont wannabe" can't work so well (in my eyes,obviously),in first instance just cause oakmont is not just a work of designing,but there is a well balanced course architecture behind. We have a lot of outrageously great talented designers,but not so much are also very good course's architects.
It's a matter of redundancy, for me. I know that this opinion it will be criticized by almost everyone and that the most of you probably should say to me that i think so just cause i'm not strong enough. But i played golf games for a time (and with results) good enough to know at least what i like and what i dislike,above the score.
My idea is simply that the 4 majors should be not only the hardest tournaments of the season,but also those who have to provides more FUN,even when you have you butt kicked. I understand that a lot of guys possibly like this kind of things..but i simply would prefer to play (for example)a major with no scout camera but conditions realistic for the place where the tournament is played...on fairways and greens pretty hard,harder,hardest...but not in the silly way i noticed playing some of the course selected for the US open contest.
So when i read the resumes of the rounds made by all of you,i just can't think "wow..i wish so much to be strong enough to compete..". And this don't want to be a critic to some desigber. I swear. And i kniw that they just try to realuze what is requested. Is the main idea that for me is wrong in his basement. We discard the realism and a more "genuin" fun for an artificial totalky unreal difficulty just to keep scores low. And i just can see why,but i can't appreciate,cause is too unrealistic. Just my thought. (even if my idea is a bit more complicated and touches other sides of the whole question..but above the fact that i don't want to bore all of you too much, at least this is the main reason of my point,in the end
).