Post by rjwils30 on Mar 22, 2017 21:05:26 GMT -5
Great point. There are so many variables in real life that it makes designing any stategic element to a hole kind of moot. Tom Doak often says he designs holes to have interesting recovery shots as for most players strategic placement of the ball is more or less a fluke and so he always try's to provide ways in which the golfer can attack a hole from any side of a fairway whether there is a bank onto the green or a mound to kick the ball off etc..This approach is perhaps less strategic and more about creativity and fun for the average player.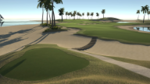 that brings more choice into the game for the golfer. As discussed above this works best with firm conditions in IRL and video game golf.
Definitely, this is my belief/approach also, very well put both of you (and Big Jack

Another interesting thing that comes into play is the shape of the individuals ball flight.  In TGC it is identical for all golfers but IRL I've seen folk play with sometimes big natural draws and fades and both high and low ball flights.  This can affect the best place to be on the fairway, providing a wide landing area definitely opens up varied strategies.  What I mean by this is a hole that feeds in from the right (i.e. protected on the front left side) offers the straight hitter the best angle from the right side of the fairway, but for someone with a strong draw they might be able to make better use of the middle/left side and naturally feed into the hole from there.
This is what I love so much about the sport, no 2 courses, or even 2 holes are the same, and no 2 golfers have the same array of shots available to them.  You can be a very good golfer playing on the same course every day of the year and no 2 rounds would be the same. You will always have holes you could have played better, shots you missed or misjudged.  Keeps you coming back